High-quality flat roofs installations and repairs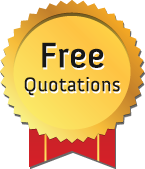 A flat roof makes the ideal choice if you're looking for an inexpensive and long lasting roofing option. Available in a variety of materials (some of which can be offered in a variety of colours to suit your home) a flat roof is quick to construct, inexpensive to repair and, if done correctly, will last for years.
We're professional roofers, based in Hull and have many years of experience in flat roofing, so call us today for an affordable solution. We're keen to let you know of the work we have done in and around the area so you can make an informed choice as to who you should use.
We have a fantastic reputation throughout the area for our skill and low prices. We can construct a new roof in both felt or fibreglass, and thanks to the choice of different colours, we can match the roof to the style of your property.
A wide and varied selection for your Hull property
We are able to offer a wide selection of roofing solutions for your home. Everything comes at affordable and competitive rates, so you don't need to worry about the cost.
Just get in touch if you require any of the following:
New flat roofs in a variety of materials for porches, garages and more

Repairs due to age or damage following a bout of severe heavy weather

Roof conversions (changing from pitched to flat and vice-versa)
Affordable prices - whether the job be small and simple, or large and challenging
Get in touch with us today and let's discuss your individual needs and requirements. We can provide a free estimate for jobs of any size. Just call now on 01482 549 466.